Add your own course.
To begin adding your own course, simply right click on the map at the point you wish to place the clubhouse. This will open a window for you to enter the course name.
The cursor will change to cross-hair to indicate that each click will define a new tee or hole. The next time you click on the map, the first tee will be added. Then click a second time to place the first hole. Keep doing this until you have placed all 18 holes. Don't worry about getting the positions correct just now. Their position can be refined later by dragging them into the exact position.
Once all 18 holes have been placed two buttons will appear underneath the current weather.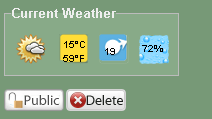 Initially the course will be private and only visible to yourself. If you wish to share your course with others, make it public by clicking the button. Each new course shall be reviewed and if deemed unsuitable (i.e. not a real course) it will be removed.
Automatic yardage & pars.
As you move the cursor, the hole yardage and par are automatically updated on the scorecard.

Seeing the yardage helps if you want to match it to a scorecard you already have.
If the par for the hole shown is not correct for your course, simply type the correct value into the box.
Handicaps.
The Stroke Index (SI) and Name of each hole is optional. If however the SI is not defined then it will not be possible to calculate handicaps for scores entered on this course. Similarly, if the Course and Slope Ratings are not defined then no handicaps can be calculated.

Existing courses.
You can view or edit an existing course and all its holes by browsing the map and clicking on the clubhouse icon.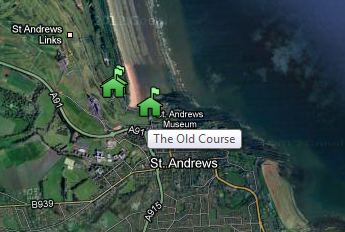 Alternatively, try typing the course name into the auto-complete search box.

Both of these methods load the courses tee and hole markers onto the map.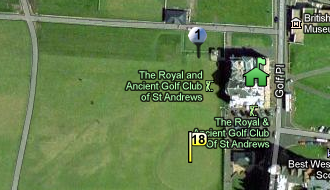 Scorecard & Weather.
To the right of the map is the current weather conditions at the course.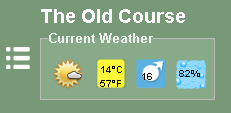 Immediately below the weather is the course scorecard.